Volunteer Spotlight Series
IDOC recognizes how important volunteers are and to honor those who so selflessly give of their time and efforts we would like to highlight some of our wonderful volunteers. Below you can read what they had to say about their experience and what they would tell someone interested in volunteering.
To learn more about community engagement opportunities, visit our volunteer page or email us.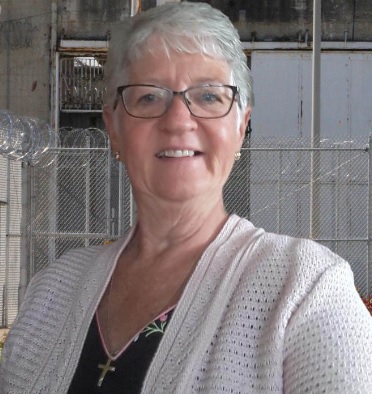 Volunteer: Mary @ Pendleton Correctional Facility
Describe how you got started volunteering.
Mary started as a volunteer in 2006 at the Indiana Women's Prison with Kairos Prison Ministry. She volunteered with them for 6 years. Then in 2012, she started assisting the Victory Ministry. This group volunteered in the Family Preservation Center, assisted with staff appreciations, and was the first group to take programming to the Special Needs Unit, which is still ongoing. She volunteered with this group for 6 years and will eventually go back to volunteering with them. Ms. Atwood, the volunteer coordinator at the time, asked Mary if she would like to volunteer with Mr. Jeff King, volunteer coordinator at the Pendleton Correctional Facility, a male maximum-security prison, of which she accepted.
Describe your volunteering role, the group you facilitate, etc.
She is currently helping the men of Pendleton Correctional Facility make stocking caps for the 2021 NBA All-Star Game as part of the Pacer's Nothing But Knit program. The hats are either made on a loom, crocheted, or knitted. There are currently around 30 residents working on this project under her tutelage. She is also helping the first Because I Said I Would prison chapter make sitting rugs for a daycare. This group consists of about 16 residents who had to cut, sew, braid, and thread these rugs, which was fun and not that easy for some. It was featured on the Because I Said I Would website of someone making this rug.
What's the best part of volunteering?
"I get more than I give," is the best part about volunteering according to Ms. Ruble. It is the inspiration and learning contentment from the residents that teaches her to look at things that irritate her on the outside – "they're trivial." She continues growing and learning from experience.
What would you tell someone interested in volunteering?
When asked what she would tell someone who was interested in volunteering it took her a minute to express her feelings. She said she would tell them, "Prison is not what you think it is." If a volunteer is still unsure about volunteering, they need to come in and see for themselves and not always believe what others say. She further added that the IDOC is making it easier for people to come in and explore volunteering. You do not have to be trained the first time you come in for a visit. If a volunteer doesn't have the time to volunteer weekly, even once a month, they could be that person from the community that these men strive to become, better active citizens. Once a volunteer comes in and sees how the prison really is, they can educate others that the persona of prisons on television and rumors is not always accurate. It is an educational experience for college and high school students, as well as other groups who volunteer.
Volunteer: Ericka @ Putnamville Correctional Facility
Describe how you got started volunteering.
"I got started volunteering by organizing the first father daughter dance to be held inside a Indiana prison facility in 2014 at the Indianapolis Re-Entry Educational Facility, which was a Level 1 facility in downtown Indianapolis. The idea behind the dance was to give daughters of incarcerated fathers the opportunity to create a memory with their father that they otherwise wouldn't have had. The dance was a success and I was asked to organize another dance the following year. However, I soon realized during a feedback session with the fathers that much more than a dance was needed. In 2016, I began You Yes You! Project with the mission to help build relationships between incarcerated fathers and their daughters."
Describe your volunteering role, the group you facilitate, etc.
"I am the Executive Director of You Yes You! Project. Our programs are currently at Putnamville Correctional Facility. In addition to the father daughter dance, we also organize a Halloween party where sons and daughters come dressed in costumes and paint pumpkins, play games and create crafts with the their father.
We host workshops for the fathers where we bring in organizations that offer re-entry services to assist the fathers in employment, health care, soft job skills, and fatherhood advice.
We also host a monthly book club with the fathers where we read books to not only entertain, but to draw inspiration. Our titles have included "The Sun Does Shine" by Anthony Ray Hinton, "Becoming" by Michelle Obama, "I Can't Make This Up: Life Lessons" by Kevin Hart and "Heavier Than Heaven: A Biography of Kurt Cobain" by Charles Cross among others."
What's the best part of volunteering?
"The best part of volunteering is knowing that I am walking in my purpose, which is to make a difference. I believe wholeheartedly that the fathers in my program are focused and ready to become better men and better fathers. We simply give them an opportunity to do so. I believe everyone needs people in their corner that believes in them with zero conditions; someone that wants nothing in return. To be able to provide that to the fathers and the daughters is the best feeling in the world because I had someone provide the same to me."
What would you tell someone interested in volunteering?
"I would tell someone interested in volunteering to shadow a volunteer to get a feel for what it's like inside a facility. Be open-minded and ask questions. Don't be afraid to have big ideas, I think the Department of Correction is open to such ideas."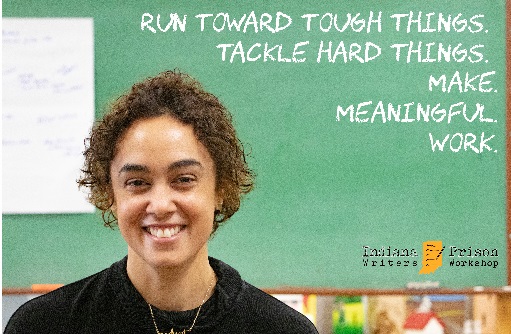 Volunteer: Debra @ Plainfield/CIF/Putnamville
How did you get started volunteering?
"As a former TV news reporter covering crime at NBC, CBS, and ABC stations across the country and working with law enforcement, I'd always been interested in helping those who have faced barriers: poverty, trauma and loss.
I worked in communications at a homeless veterans' not-for-profit and a colleague mentioned that her husband worked at one of the facilities. I expressed interest in volunteering. She suggested I contact Plainfield Correctional Facility."
What is your volunteer role?
"My first-year volunteering at Plainfield Correctional Facility was amazing. We accomplished so much in such a short amount of time. We brought in a literary community of visiting artists: poets, rappers, authors, and not-for-profit executives who helped the offenders craft their story, advance their writing, communications, and presentation skills. Plus, we were able to get some of the offenders' work published in an arts and cultural blog. What began as a simple volunteer opportunity blossomed into a 12-week curriculum and then the creation of my own not-for-profit, Indiana Prison Writers Workshop. Many in the community took interest, but most importantly people were moved by the well-written and heartfelt stories produced inside the facilities by offenders.

As a result, there was great interest from others to become volunteers themselves and lead the workshop. Kristina O'Connor now leads the creative writing workshop at the Plainfield Correctional Facility, Michael McColly at the Correctional Industrial Facility (CIF), and Tiffany Leininger at the Putnamville Correctional Facility. I give credit to these 3 volunteers for their dedication and to the offenders who are brave enough to write, be vulnerable, and share their stories. I'm simply there to listen, encourage, help motivate as well as build their writing skills. I've watched grown men cry recalling a grandmother's chicken noodle and dumpling recipe. Writing is transformative."
What's the best part of volunteering?
"I enjoy many aspects of volunteering; mainly serving as a writing mentor.
One of the offenders from the workshop wrote this: "I discovered more about myself in that year as one of ten men in the creative writing workshop than I did in the eighteen years behind bars. That class changed me. It was the missing piece I needed to make a compete 360 to be the man I'm supposed to be. It was the "aha moment" and the light bulb going off at all once. We met community leaders, local rappers, and everyday people who wrote to ease the mind, and it was refreshing. So, the writing class became my re-entry course. I learned how to write cover letters as well as other educational tools."
What would you tell someone that may be interested in volunteering?
"It's an environment where you get to see real change. My family and I have traveled all over the world, but it was in the prison visitor's room at Plainfield Correctional Facility that year (October 2017-October 2018) where we created something special. It's counterintuitive to run towards tough things, to dive under a big wave, but that's the job of life; to tackle hard things and make meaningful work."
Volunteer: Dave @ Indiana Women's Prison
How did you get started volunteering?
"Volunteering has been part of my life as long as I can remember. As soon as I was old enough to start doing things on my own my parents encouraged me to volunteer with a variety of organizations in my hometown. Over the years I've spent countless hours volunteering for any number of purposes.
Over the past few years I've been focused more heavily on efforts where my professional experience can benefit the community. As a software engineer, author, and international conference speaker these types of opportunities are limited but I've been able to direct my attention to STEM educational programs such as various professional software developer conferences and CoderDojo which helps kids build a solid foundation with technology.
Governor Holcomb's work bringing The Last Mile to Indiana meshes perfectly with where I've wanted to focus my efforts. When a friend told me about The Last Mile and invited me to the kick-off meeting at the Crafted office I was intrigued. I attended the meeting, learned about the program (met MC Hammer) and knew immediately that this was the type of volunteering I wanted to do. I could use my experience and knowledge to help people literally change their lives."
What is your volunteer role?
"I have been volunteering with The Last Mile as a mentor at the Indiana Women's Prison for nearly a year. Once a week I join the students in the computer lab and help them with their projects, answer questions, or even supplement the course material with ad-hoc, impromptu lessons and whiteboard sessions.
This group is just like any other classroom I've ever led. I find that the students that participate in the evening labs are highly engaged and want to learn all they can. Just like any other students they get frustrated but that's all part of the learning process and I'm happy to help them overcome the hurdles."
What's the best part of volunteering?
"Volunteering with a program like The Last Mile is an incredibly interesting experience. Over the years I've spoken at conferences from Seattle to London. I've written a book on software development, recorded training classes, and even led in-person classes at programming boot camps. None of these compare to the satisfaction of knowing that I'm helping people that are genuinely interested in changing their lives.
The students I work with from week to week at IWP have made mistakes. They want to return to society and get off the path that led them to incarceration. In order to do that they need some help and I'm happy to do what I can to provide them with the knowledge and experience to make that transition easier.
Watching the students skills and confidence increase from week to week is incredibly rewarding. I love seeing those "A-ha!" moments when the concepts we're working with solidify in their minds."
What would you tell someone that may be interested in volunteering?
"Just do it! Even if you think you don't have anything to offer just choose a time that works for you and make it a routine. I think you'll quickly discover that you have plenty to offer and you'll learn as much about yourself as you're helping others better their lives."